Accommodation:

Benidorm Hotels

Benidorm Apartments

Benidorm Campsites
Benidorm Guide:

About Benidorm

Things To Do

Places To Visit & See

Gastronomy - What To Eat?

Shopping - What To Buy?

Nightlife

Culture

Festivals & Events

Accommodation

History
Attractions:

Benidorm Cultural Sights & Landmarks - Costa Blanca, Spain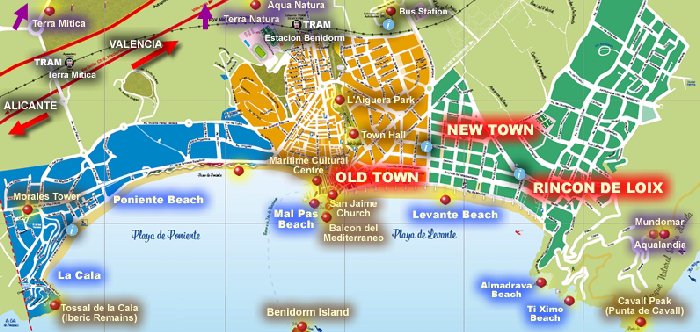 As for
Benidorm cultural sights & landmarks;
the Benidorm Old Town, Balcon del Mediterraneo (The Castle Viewpoint), San Jaime Church (Iglesia de San Jaime y Santa Ana), Maritime Cultural Center, Poniente Beach Promenade, Benidorm Town Hall and L'Aiguera Park is must see cultural sights in
Benidorm.
Benidorm Old Town

The Benidorm Old Town is situated aside the promontory that separates the two Benidorm beaches. The Cerro Canfali headland that is veined by narrow lanes and alleys, converges in the light-filled Balcón del Mediterráneo belvedere, whitewashed and decorated with blue tiles, an ornamental motif repeated along the balustrade that graces stretches of the seafront of Benidorm.